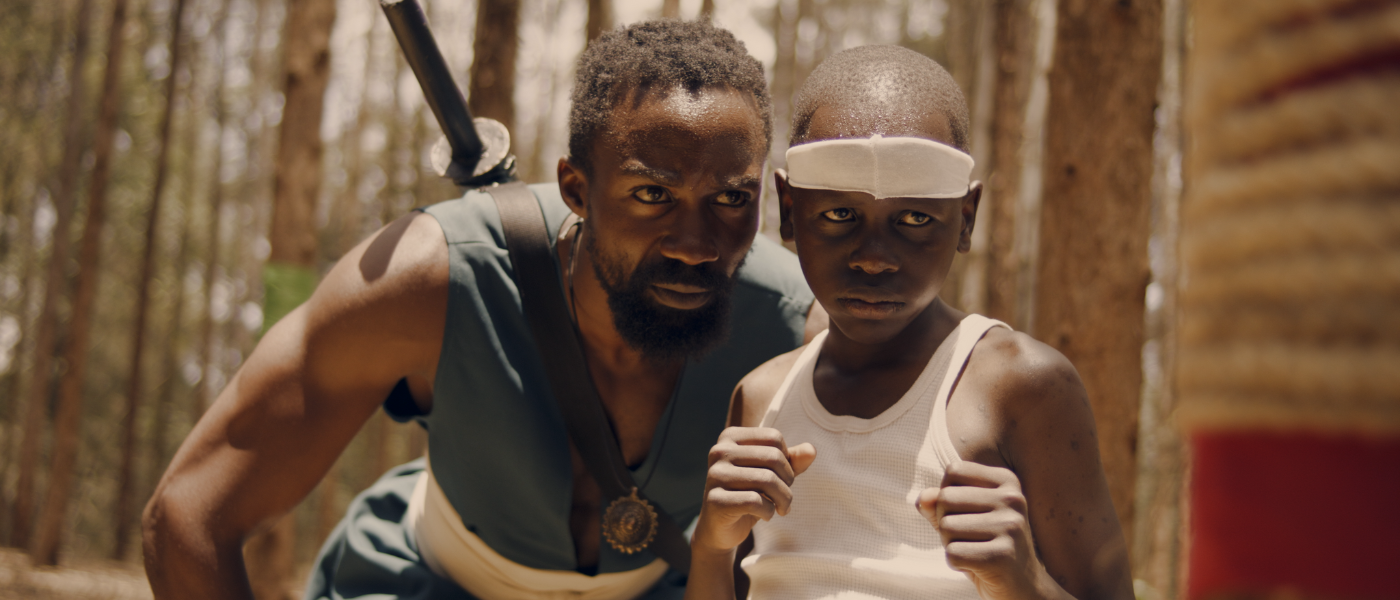 STERO
Status: Released
Bruce Koech, a lone ranger with the heart of a warrior, accepts a mission from his imaginary Sensei - to be a badass hero. In school, Koech is forced to wear the disk - an ugly bone after speaking Kiswahili contrary to the school's language policy.
The rest of the day becomes a long, walk of shame for Koech. He faces ridicule with every corner he turns. Sensei pushes him to remove the disk and protect his honor. At the height of his humiliation, Koech removes the disk, landing into trouble with the Headmaster.
At the Headmaster's office, Koech is caned. He musters all his strength to endure the pain and protect his honor but falls short - the pain is too much.
He yields to the pain and wears the disk. He leaves the office one step shy of becoming a badass hero.

Back to Fiction
CREDITS
Lead Cast

Koech - Kael Wafubwa

Sensei - Lucarelli Onyango

Directed by

Tevin Kimathi

Milan Tarus

Written by

Millan Tarus

Produced by

Juliana Kabua

Executive Producers

Sam Soko

Bramwel Iro

James Kimani

Ahmed Saleem Deen

Newton Gitahi

D.O.P

Viboks Omondi

Production Designer

Njoki Githinji

Editor

George Mugambi

Costume Designer

Kambua Rose

Costume Assistant

Edwin Ndiba

Music Composer

Sean Peevers

Creative Director

Peter Tukei

Production Manager

Habiba Gicheru

Unit Manager

John Marende

Choreographer

Daniel Gluche

Props Master

Steve Ken

Focus Puller

Jackson 'Sparrow' Kangethe

1st AC

Reagan Gibendi

2nd AC

Andrew Maina

Intern

Pascal Ongeche

Digital Image Technician

Trevern Henry

BTS Photographer

Alphonse Werema

Drone Operator

John Ngoja

Script Supervisor

James Matere

Gaffer

Kamonde Victor

Key Grip

Jerry Kavita

Genny Operator

Charles Ndung'u

Lighting Technician

James Ndumia

Sound Mixer

Grishon Onyango

Assistant Sound Recordist

Frank Matovu

Carlos Mbugua

Location Manager

Mahinda Joe

Assistant Editor

Jordan Inaan

Colorist

Ahmed Saleem Deen

Artwork

Phil Xavier

Communications

Lucky Mwachi

Music

Vocals by: Njoki Karu

"Equator"
Published, Produced, Written & Performed by: Nyokabi Kariuki

"Mawio"
Published, Produced, Written By: Njoki Karu
Performed By: Njoki Karu, Newman Owor, Dre Macharia

Special Thanks

Unity Primary School - Catherine Birir

Cheleta Primary: Mary Kimani, Jada Kamau, Espedita Wawira

Kenya Agricultural Research Institute (KARI): Collins Khaemba

Cornellia Hermann

Hawa Essuman

Likarion Wainaina

Rosh Khodabakhsh

Collins Khaemba

Rose Jepkorir