For 9 years, Edward Ahenda has built a reputation in the film industry as one of the most sought-after location sound mixers. Some of his credits include two popular Maisha Magic Series; Pete & Sanura, Award-winning documentaries; Softie & No Simple Way Home, Oscar nominated film, Watu Wote, and commercials for top brands such as Nivea, I&M Bank & Equity Bank.

He has also worked on projects with NATGEO, BBC, ALJAZEERA, REMOTE, and VICE.

In this interview, he tells us why he chose to pursue Location Sound which is 'a road less traveled' by most filmmakers as he describes it, and shares some of his experiences from his 9 years in the industry.
1. How did you get into a career in sound mixing?

Location Sound is a calling for me. Not a lot of people chose to specialize in sound mixing when I was in film school and that's what drew my interest. I wanted to understand what location sound was and how sound works in film. Another thing that makes sound interesting to me is that you talk less and listen more which is part of my character.

After film school, I did a lot of research on location sound in Kenya to find out who had made a successful career out of it.

Social media helped a lot, the first person that stood out from my Facebook search was Richard Ngugi. I started following him and his work. At the time he was working on a TV series 'Saida'. I decided to reach out to him and basically made my pitch asking for mentorship and the opportunity to work under him as a sound utility or boom op.

Unfortunately, Richard was exiting the show but he introduced me to Willis Abuto who was at the time transitioning from Richard's boom operator to location sound mixer. I learnt a lot under Willis and the rest is history. I'll always be grateful to both of them for the role they played as mentors for me.

2. What's a typical day like for you on set as a sound mixer?

A typical day depends on what's being shot or which project am working on.

If am working on a TV series, for example, I always have 2 assistants or 2 boom operators and sometimes an intern who acts as sound utility. Once we get on set we set up our equipment, make sure everything is powered on, we test the wireless and corded shotgun mics, as per the scene dictates, also depending on the call sheet provided by the Assistant Director.

I go through the script a few times so I can best prepare myself and my team so we know how to set up, which character to mic and decide on the equipment to use so that we're not caught off guard. I strive to be 15 to 30 minutes ahead of everyone so we don't have to get rushed.

In documentary sets, my day starts by preparing the night before so by morning everything is connected since most documentary is run-and-gun depending on the plan. In that scenario, I do both sound mixing and boom operation so I must have a wireless lapel mic as a backup and boom (short gun mic) as the main track. With boom, I am more flexible.

In a commercial, the sets are very hectic and fast-paced. They mostly give the excuse of not having a budget for a boom op but I always insist on having one. You'll find that the camera department for example could be having 5 people on set which is quite tricky for the 1 person in sound to keep up with.

However, out of all sets, documentary is my favorite.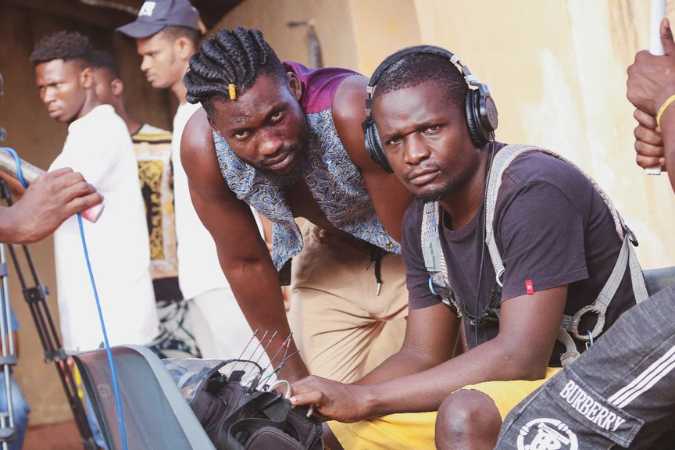 Edward Ahenda on the set of Maisha Magic Series, Sanura
3. What's one accessory you couldn't work without? /What's the must have equipment in your kit bag? Do you have any favorite brands?

It's not just one accessory because sound entails a lot of equipment. For you to assemble a complete set of sound gear for a shoot, you need about 15 accessories. I don't have a specific one that I can't do without but most of the time I love being set and ensuring I have everything from mixer, batteries, headphones, mics, Cards, cables, harness, pole and other accessories.

There are a lot of brands that I love. For the mixer, am a fan of Sound Devices, for wireless mics I love Lectrosonics/Sennheiser, for Director and Script Supervisor feed I use Sennheiser/rode, Shotgun mic I use Sennheiser. I also use Sennheiser and Sony headphones. I use Deity and Tentacles for time code, the boom pole I use is from K-Tek, and my mixer bag and harness I use Orca.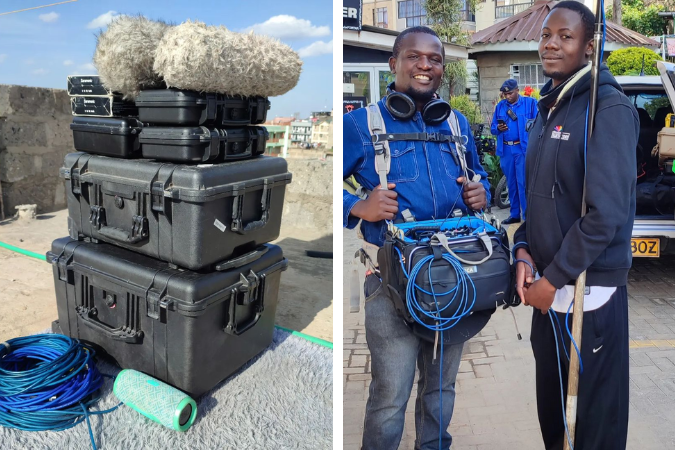 Edward Ahenda on set with boom operator Desmond Okeyo
4. What are your proudest accomplishments? Do you have a favorite shoot?

One project that I count as an accomplishment was working with Kat Graham and Darren Genet (both have worked on 'Vampire Diaries') on a documentary that is yet to be released. I can't wait for people to watch it. I learnt a lot from them because they have a lot more experience in the industry.

I also had some amazing moments too while I shot with NATGEO, ALJAZEERA, and BBC teams.

Locally, am proud to have been part of 'Watu Wote' which made it to the Oscar nominations, Award-winning films, Softie & No Simple Way Home, Pete, a TV series on Maisha Magic.

One of my memorable shoots was along River Nile with film Director Akuol de Mabior and an amazing crew. We traveled for almost 14 hours on a boat from Juba to Bor in South Sudan. The boat was run by fishermen led by a woman. They caught fresh fish and that is what we cooked and ate on the way.

There are so many more interesting stories. This question brought back many memories.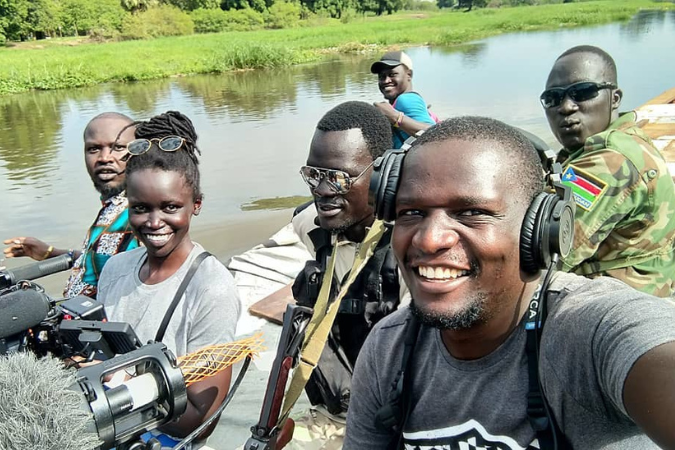 Edward Ahenda filming on River Nile with Akuol de Mabior and crew
5. How have you seen the industry change over time? What does the future hold?

The industry has had many changes, I can't compare it with 9 years ago when I started. Before, the consumption was mostly limited to local broadcasts.

Technology has brought about platforms like Netflix and Multichoice which have created a lot of opportunities for film crew. Right now, a lot of crew are booked and busy working on the shows being aired on these platforms. With Netflix, local productions are given a global platform to shine so I am hopeful things will only get better in the near future.

Professionalism has also improved among film crew and we are paid much better than before though not at full rates, thanks to the expansion of the market and improvement of quality of local productions.

6. What advice would you give to those starting out in the world of professional sound?

Sound is very vital and technical in film production, you need to carry yourself professionally, have respect, follow a code of conduct, and keep time…because you work with different people from different backgrounds.

Those who start as interns are supposed to grow from sound utility to boom op to mixer/recordist and that takes time.

A good mentor will show you how things are done, guide you with troubleshooting during a shoot, teach you the code of conduct, how to relate with other departments, and how to engage with clients to get a better rate.