Juliana Kabua is not a new face in the film industry. For over 5 years, she has worked as a Producer, Line producer and Production Manager where she has produced short films, infomercials, commercials, online web series, short documentaries, and live shows for renowned brands in Kenya and Africa.

Some films Juliana has produced include the short film Ten O'clock (2019), Ziwa (2021) and Disk (2022). Some of her feature films that are currently in development have been also been presented in different festivals and labs across Africa and Europe.

In this in-depth conversation, we get to pick Juliana's brain on her producing journey, what her process is, her experience so far and what she's most excited about...
1. You just completed your 2nd short film, Ziwa, how do you feel about it? What has the reception been so far?

I am excited to get to that phase where we are putting our film to market, we have a beautiful story and it's lovely to see something that was on paper come alive on a screen. We are currently doing the festival rounds with an entry at FESPACO as our first African premiere.

The reception has been really good - it's been a joy to see people come together and have conversations around the film where they have asked questions about the characters in the film, why we chose a certain style and the meaning of different scenes. In this way, it does feel like the audience has connected with the story and this is what you're looking for as a filmmaker when the film finds resonance with your audience.

This has been a huge boost to the team and partners involved that were extremely supportive and without whom the film wouldn't have come to life.

2. What do you enjoy most about being a Producer?

I enjoy the creative process, the sessions with the director/writer where you are exploring different ideas/angles of the story and putting together the different visual elements.

I also enjoy the process of strategizing, getting the partners and team together, and having this entire team finally believe and ride with a vision that you presented to them.

As a producer you get to see the whole life of the project, it's beautiful to see an idea evolve into a script, to a team that believes in the project, and finally to something that people can enjoy watching and relate with. Being behind the scenes can be stressful, but it's the joy of creating something from scratch and getting to see it come alive on screen and people talking about it.
3. What kind of stories are you drawn to as a Producer?
I am drawn to stories that focus on our identity as Africans, that seek to help us discover the beauty of our culture, the 'why' of certain beliefs/practices in our culture and those that talk about complex human relationships in simple every day scenarios. I also really enjoy character driven stories where the stories read like a book and you get really immersed into the stories and
the psyche of the characters.
4. As a creative producer, what are the most important things to remember when collaborating with other storytellers? Any examples you can share?

There is a pertinent need for us as African filmmakers to focus on creating stronger narratives as this is what will create room for us in the global arena. In creating stronger narratives, we also need to give enough time to develop stories and not rush the creative process.

The life cycle of any fictional project takes between 3-5 years, where the development process can span between 1-2 years in ideation and getting the script and visual elements together. In light of this, I have found that there is a need to communicate with the team on realistic timelines for the life cycle of the project and what can be achieved at every stage.

I have found also that as a creative producer and as one of the key vision bearers – you must know your 'why' in every story. The journey can sometimes be tedious and having your 'why' helps you to be more resilient. In addition, as you are constantly pitching the vision to partners and the team – people are likely to come on board when they see your strong conviction in the project and this helps them build a connection with both you and the project.

5. Film Producing can be a long and tedious journey, what gets you through the challenging moments?

I am learning to celebrate the small moments/victories in the film-making journey, an acceptance to a lab, a new partner coming on board…etc. The journey is rarely made by only big moments and therefore fighting to maintain a grateful stance really helps in those difficult moments.

As a creative, I am also learning to make sure that I build up my well as we can't create from an empty space. Our experiences and daily interactions shape our perspectives and the unique outputs and stories that we then share with the world around us.

In that way, things like meeting up with friends/family, having some alone time to reflect, reading a book/watching a movie are also becoming a key focus. I see it now as a cycle where everything feeds into each other. It's granted that some seasons will demand more of our time for work, it's a delicate balance but it's a fight that we have to put up each day and try to do better.

Finally, I find that I need to constantly remind myself of my 'why' and this helps me to be more connected when things are sometimes not adding up.

6. What are you working on that you are most excited about?

I am working on 3 amazing feature films that are currently in the development stage – Wahenga, Kahawa Black & Conversations with My Mother. I am excited to see some of these stories come to life as we get closer to the conclusion of the development stage for at least 2 of the projects. Here's a brief on what each story is about:

Wahenga is a period piece about Kenya's pre-colonial history told through the lens of a young boy fighting for Kenya's independence.
Kahawa Black is a mystical realism film that focuses on rebuilding a relationship between a father and daughter on the backdrop of coffee and traditions that connects the community to their ancestry.
Conversations with My Mother is a film that journeys with a girl who is trying to come to terms with past sexual abuse and is questioning the role of her mother and the community in allowing the abuse to happen.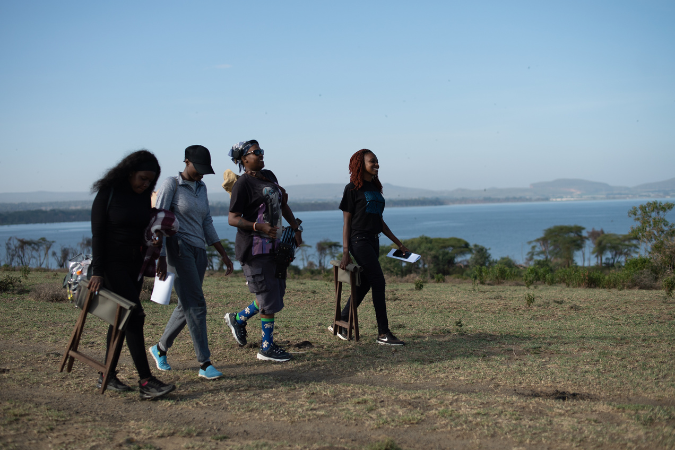 Behind the scenes shot of Juliana Kabua Producing for the short film Ziwa